Organize Your Kitchen
When I
was younger, my family moved a total of 1 mile down the road, for a reason I honestly can't remember. It wouldn't have been a big deal if, within the same week, my grandmother hadn't been in the hospital and I hadn't been recovering from major bone surgery. To say the least, it was a busy chunk of time. Now, I am only telling you this to emphasize the importance of the topic of this blog, kitchen organization. Since my mom was busy running between two different hospitals, it was up to my dad and 13 year old brother to unpack our rather large kitchen. The results were not pretty, and we couldn't find anything for almost a year. A YEAR!
There was absolutely no logic to how things were put away, I am actually believe their key motivation was something like, "this spoon fits here, so there it will go." Insanity.
Because of that, I want to offer some advice on how to avoid such a ridiculous situation. Some solutions can be done without any monetary cost, and others require some very worthwhile investments. Even just a few of these tricks and tips will bring efficiency and peace of mind to your kitchen, a place that should be comfortable and relaxing for everyone who uses it.
Free Fixes
Recycle Plastic Bags and Take-Out Containers
You bring home and accumulate grocery and shopping bags just like everyone else, and sometimes we believe that take-out containers= free leftover storage. But look at what they are doing to your space! Lucky for you, both items are totally recyclable. Throw the containers in the recycling bin with the cans and bottles, and let them be reincarnated into something even more useful, instead of letting them melt and warp in the dishwasher. Create a designated place for your plastic bags, and on your next trip back to the store bring them with. Most supermarkets now have a place for used bags to be recycled right inside the store. I know it's tough, OK not really, but it's worth it for both improving the environment, and saving you from an inevitable plastic waterfall next time you need to store leftovers.
Use Wall Space Effectively
Look around your kitchen, is there an excess of wall space, or are you using what you've got to your benefit? A blank space over a counter or above an appliance is an opportunity for display shelves and/or storage. Use the spot for cup or spoon hooks, or even a tablet for schedules and grocery lists. Cork boards and chalkboard paint can be convenient additions to these areas.
Are there 3 bag of open flour, or maybe 2 boxes of half eaten cereal smushed into the pantry? Consolidate those items to save a ton of space. Plus it's nice to be able to see what you have so you don't end up with 4 bottles of vanilla extract. Donate excess non-perishable food that has been taking up space for some time.
Divide Kitchen to Store Items by Place and Frequency of Use
This is the big one. Partition your kitchen into sections or work areas. Cooking. Prep. Cleanup. etc., and determine what items are most used and where. For example: It is most likely that you use your pots and pans by the stove, so they should be stored in arms reach from there. However, you probably use a frying or saucepan more often than the double boiler, so it should be more convenient to reach than the later. That may mean it's higher on a shelf, or further back in a cabinet. Make sense?
Not sure about some items? Place them aside and determine their place as you use them. This is also a great way to reduce clutter in drawers. If you haven't touched an item in months, and it's just sitting in the box or container you set aside, it may not be a necessary tool and can be donated.
Small Investments
Once you've ditched the flimsy stuff, invest in a set that will actually store well and last. No more mismatched lids that don't quite fit. Find something that's sturdy and will lock in or screw on for extra security. These glass containers with tops that lock on are less likely to stain, and more likely to get to a destination in one piece.
Shelf Organizers/ Drawer Dividers/ Tension Rods/Over the Door Storage
Using basic containment methods, like re-purposing an over door shoe rack for small item storage in a pantry, or a tension rod to save space under the sink, can really be helpful, fairly inexpensive ideas. Drawer dividers, especially in the wider drawers are easy to find, and will keep you from having to rummage around for the can opener or spatula you know is in there somewhere.
Wire Shelves for the Fridge
Below, a basic wire shelf is being used to expand cabinet or counter space and storage capacity,
which is great. However in the fridge, it will not only look more uniform, it will also add much needed shelving to a standard three level refrigerator. It also works really well in the freezer to keep the peas and frozen fruit from getting lost in the back. No more stacking food.
Such a simple concept. See what you have on hand. Using clear containers to consolidate food will not only save space and create a uniform, organized looking pantry, it will also give you a heads up when you are low on certain items. Invest in decent containers, and even keep the dry goods fresher longer.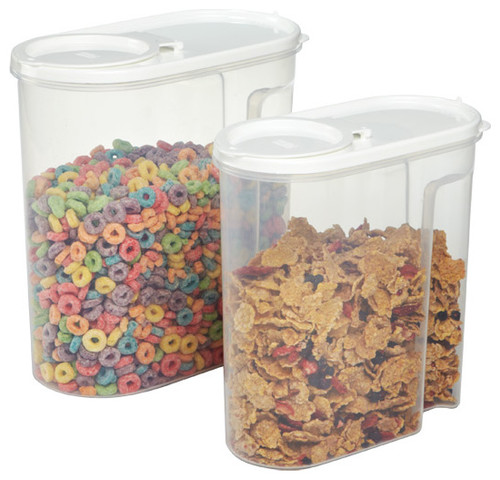 They may sound old-fashioned, but let me tell you, they are still going strong for a reason. Convenience! Shorter items, like cans and spice containers can get lost behind big jars of sauce and the like. But with a lazy susan, just a turn will show you everything you have. Save yourself the hassle of digging for the chopped olives, and add one to your pantry corners to optimize space.
An easy way to contain plastic bags, whether being re-used or gathered for recycling, is to pick up a plastic bag holder for a few bucks. Some DIYers will make one themselves, using a small piece of material with the ends sewn together and leaving a small hole on each end for the bags to enter and exit as needed. Don't let them fly about the kitchen anymore, your pets hate it.
Bigger Changes
Built-Ins: Back of Door Storage/ Pull-Out Shelving/ Rolling Spice Rack or Pantry
Investing in built-in cabinet modifications does mean a higher price tag and a bit of construction, but the results are gorgeous and sleek. If you are remodeling, or just tired of searching for stuff, installing pull-out shelving in cabinets, and optimizing the smaller spaces with rolling pantries or spice racks, will result in less crowding and a more efficient, clean looking kitchen.
Kitchens, especially those with high ceilings or center islands containing cook-tops, are just asking for a hanging rack for pots and pans. The convenience of having reachable equipment in what was once an unused space is astounding. The options can also be customize to your personal style. Designers have rustic, stainless steel, industrial or whatever style you're going for at reasonable prices.
Having an island that moves not only allows for extra storage, it provides more counter space when needed and can be moved out of the way when not in use. The price tag on rolling islands will range from $30- $300+ depending on preference and amenities included.
Open Shelving/ Glass Cabinets
Keep yourself accountable and display your favorite kitchenware with open shelving or glass front cabinets. If you know others can see your stuff, it's less likely that you'll let it deteriorate into a mess. Challenge yourself to keep up maintenance and stay organized.